Dezeray Rathjen, the mama behind MTN DOG FARM. She lives on her off-the-grid homestead in rural Montana alongside her two wildflowers and her husband, Troy; although he is a traveling pipeliner so she often is tending to the chores with just tiny helping hands.

If you're ever looking for her, she's probably elbows deep in her market garden, deep in the Bible, starting something new in her DIY greenhouse, singing alongside the sheep or hunting with her family.

She has a heart for community-sufficiency, nurturing her family with wholesome food and encouraging other to live off the land.
This recipe is nothing exciting, there I've said it. But I've got a lot on my heart and fruit I'm hoping to share will you; it may fill you in ways no dinner can. 
As a homestead mama, we aren't bursting at the seams with spare time and as much as I'd love to start growing money trees, I sure haven't found those seeds at Baker Creek. But my heart is still convicted to give. The Bible calls on us to give. 
I wrestled with this conviction for years, never finding a way to give in a way that satisfied that hunger. 
For God loves a cheerful giver 
2 Corinthians 9:7 
But that's not the whole verse, friends. 
Each one must give as he has decided in his heart, not reluctantly or under compulsion, for God loves a cheerful giver
‭2 Corinthians‬ ‭9:7‬ ‭
What if we weren't just compulsively convicted to give, but followed His lead and prepared to give. So that when we are called on to do so, we don't even have to think twice about it. 
How many dinners do you make a week that you could double up on, stick in a disposable or thrifted (because who doesn't need another reason to go thrifting) dish and tuck it into the freezer for a time it's needed. 
Each one must give what he has decided in his heart. 
So we will give this a suiting title –
The Giving Pie 


Recipe makes enough for two families of four 


The meat I prefer for this recipe is wild game (especially venison) as it has lower fat content but feel free to use whatever you have on hand. 


Ingredients 


For gravy :


2 lbs hamburger 


1 yellow onion


4 cloves garlic 


2 cups chopped fresh kale 


1 cup corn 


3/4 cup stock or water 


Salt, pepper, fresh herbs to taste


For potato topping :


4 medium sweet potatoes peeled and diced
1/4 cup butter
1/4 cup milk 
fresh Rosemary 
1 cup shredded cheddar 
Directions 
1. Brown hamburger, onion, garlic in cast iron skillet 
2. Deglaze skillet with stock/water and add kale and corn to pan 
3. Stir in seasonings then divide half into a second dish. You could pick up a pack of tinfoil pie pans for under $2 at the grocery store. So you should have a cast iron with half gravy mixture and a pie pan with other half gravy mixture. 
4. In separate skillet, add diced potatoes to water and boil until tender
5. Drain water, add butter, milk and smash with wooden spatula. I leave ours a little lumpy but it's delicious whipped up smooth as well 
6. Season with fresh rosemary sprigs 
7. Layer potato topping over gravy 
8. Top both with shredded cheddar cheese and broil the one you're eating for dinner in the oven 
With the second dish, cover with foil and write these directions : 
Giving Pie 
Bake at 375° with lid for 13-15 minutes 
remove lid for additional 3 minutes 
Enjoy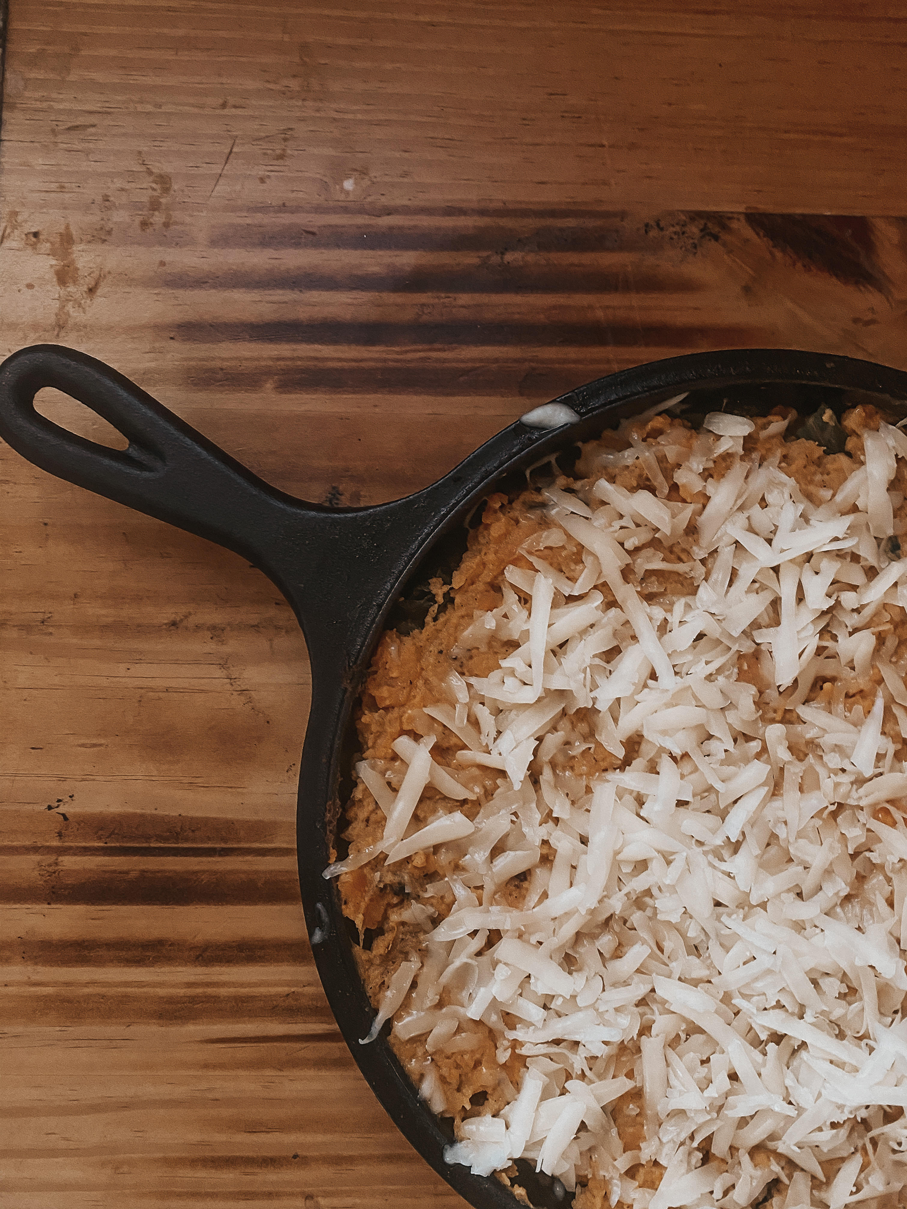 Please join us by sharing, continuing the conversation below, and connecting with Dezeray at the following:

Instagram