RuthAnn & Elvin Zimmerman, Live in North east Iowa on 21 acres with our 7 children. They have lived on their acreage for 20 years now.
They have a couple different breeds of cows for milk and beef, Mangalitsa hogs, chickens and 2 Donkeys.
RuthAnns husband works full time but finds time to to the 'heavy lifting' of the homestead while her and the children do the day to day chores of the animals and in the summer in their 8000 sq feet garden planting, weeding and harvesting.
Their oldest child, Kristina, is married and lives near by, and their other children still live at home, ages 18,13,11,8,5,4.
I chose to share this granola recipe because it has been a staple in our home for the last 4 years!! We make this recipe 2-3 times a month and sometimes even weekly! Store bought cereal is something that just does not fit the nutritional guidelines of our family! And the type of cereal that DOES fit our nutritional guidelines sure does not fit our budget!!!


My family has passed around granola recipes and tips on how we have changed recipes to fit our individual families. This seems to be the recipe that best fits our family!!
Stir together:
7 cups crispy rice cereal
7 cups rolled oats
3 cups walnuts (chopped fine)
1.5 cups coconut sugar
1TBS cinnamon
Melt together:
1 cup butter
1 cup coconut oil


Stir the oil and butter into your dry ingredients.
pour your granola into a large roasting pan or a few 9×13 pans and bake/toast at 250 degrees for 2 hours stirring every 15 min.


This makes a gallon of granola plus a few servings to eat fresh!!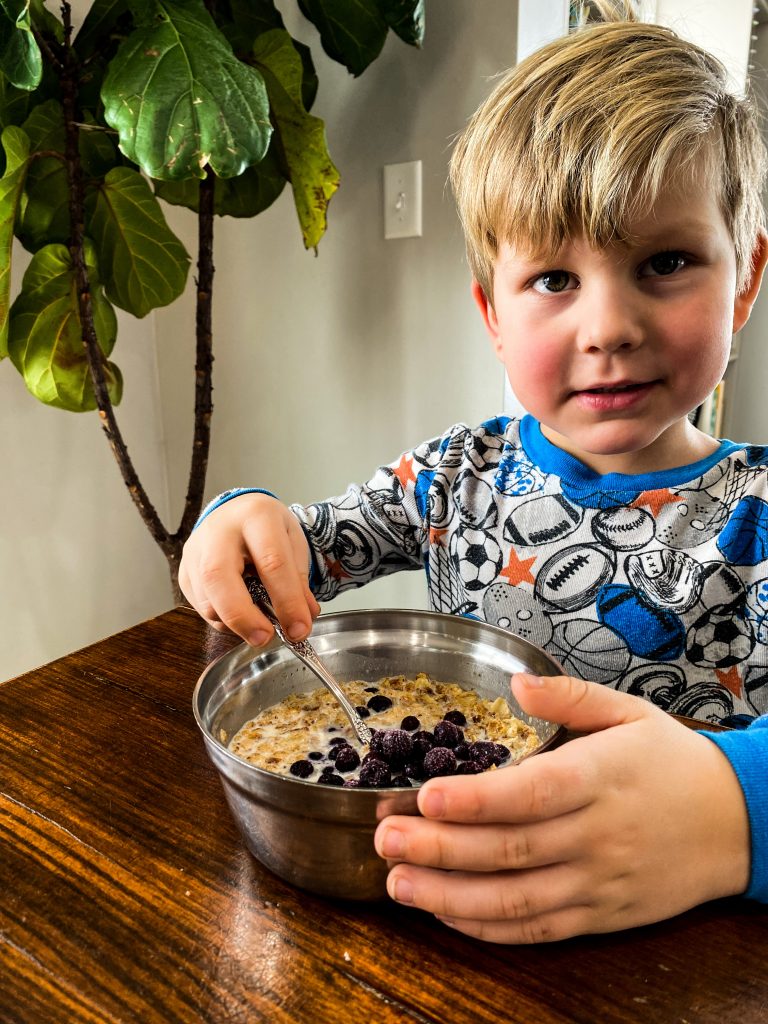 tips and variations:


Add dried fruit after the granola is toasted.


I use home grown lard instead of coconut oil.


I like to use organic brown rice crispies from Azure Standard when they're in stock!
Coconut sugar is easier on blood sugar levels (lower on the glycemic index) than regular sugars.


My family does not like chunks of nuts in their granola so I grind the nuts super fine, like into a coarse flour.


Our family eats this granola as a cereal or as a topping for our homemade yogurt parfaits. They eat this for a cold breakfast, after school snacks, bedtime snacks, or after sports snacks, This granola is a large reason why we keep fresh raw milk on tap in the refrigerator.


Disclaimer: We are not a "No sugary cereal shall ever pass my lips" family!!  We do buy boxed cereal from Aldi for occasional use. Its just not a something we make a point of keeping on hand! When I do go to Aldi I get a few boxes of cereal for a treat!


And I've totally been known to buy boxed cereal as a reward for the children meeting a goal!
Please join us by sharing, continuing the conversation below, and connecting with RuthAnn at the following: