Hello, I'm Mandy! I have been more than happily married to my husband, Grant, for 8 years, and we have three children, Arabelle (7), Garrison (5), and Agatha (2).
I left my teaching career 6 years ago to stay home and raise our babies, and in more recent years have taken on homeschooling and homesteading in the suburbs. We might raise some eyebrows with our choice of lifestyle in our neck of the woods, but since committing to homesteading life, we wouldn't have it any other way!
The memories we are making with our little ones, and the sense of purpose and fulfillment we are getting out of life are worth more than anything to us. We look forward to everything our homesteading adventure has in store for us and hope to inspire others along the way!
Soon after I began my sourdough journey a few years ago, it quickly became very clear that one loaf was never enough for our family! Between my husband and I and our three children, we can easily devour an entire loaf in one sitting.  I love that it gets eaten so quickly and never goes to waste, but with how long the process is, I always found myself wishing there was leftover so I didn't necessarily have to turn around and start another round right away! So, I started adjusting my process to make more than one loaf at a time.
Here is my go-to recipe that yields TWO loaves of sourdough deliciousness! Even in batches of two, this bread gets eaten so fast in our home that I make it constantly. At this point I have it memorized. I hope you and your family enjoy it as much as we do, and I bet soon you'll have it memorized too!
Ingredients:
200 g active sourdough starter (feed your starter early so it is ready to use mid-morning!)
750 g tepid filtered water
1000 g bread flour
21 g salt
Instructions:
1. Combine active sourdough starter with water in a large mixing bowl. Whisk flour and salt together in a separate bowl, then add to the starter mixture. Mix all ingredients with a Danish whisk or fork until it comes together into a rough dough. Scraggy is fine, just try to ensure all the flour has been wet and there are no big dry pockets.
2. Cover the bowl with a damp tea towel and let rest at room temperature for 30 min. After the rest period, use your fingers to scoop and grab a corner of the dough (it will still be very wet and messy at this point), and do your best to lift it up and fold it into the center. Rotate the bowl a bit and repeat until you've come full circle. Cover the bowl with the tea towel and let it rest for another 30 min. Repeat this cycle one or two more times, whatever time permits. You will feel it begin to come together and form more tension with each stretch and fold session.
3. Transfer the dough to a large, lightly oiled bowl. Or, as I prefer, a clear straight-sided dough proofing container, so you can really watch the activity and clearly see when it has risen the appropriate amount. Cover with a clean tea towel or loosely set lid and place in a draft-free and warm area of your home to undergo the bulk fermentation. This usually takes about 6 hours for me. If your house is very warm it could take less time, and if it is cold, it could take longer. You are watching for it to rise by slightly less than 50% volume.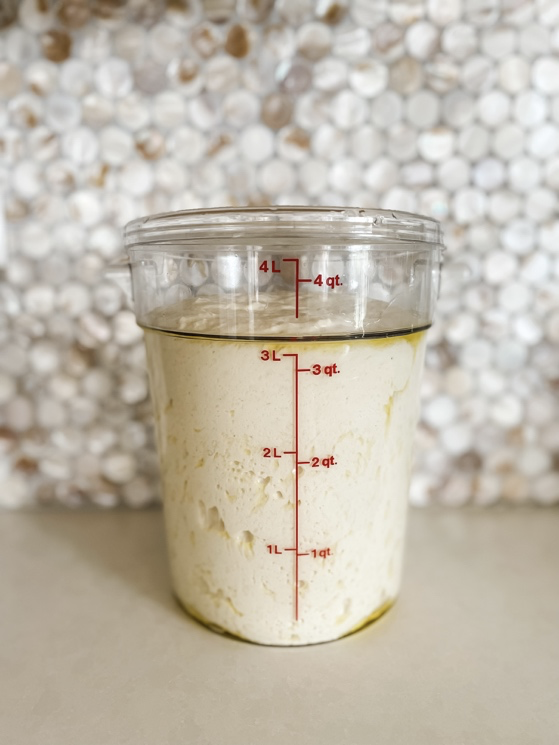 4. When it has risen by almost 50%, pour the dough out onto a lightly floured surface, and use a bench scraper to cut it in half as best you can. I like to flour a mixing bowl and check each half on a scale to ensure I get them perfectly even. Although this is not necessary. Starting with one of the halves, repeat that same stretching and folding method as in step 2, until you have come full circle and brought it into somewhat of a round loaf. Repeat with the second half and let them both rest seam side up on the lightly floured surface, covered with a clean tea towel, for 20-30 minutes.
5. While they rest, prepare two well-floured proofing baskets (or line two bowls with clean tea towels and heavily flour). Transfer the loaves to their proofing vessels, seam side up, and cover. Proof in the refrigerator at minimum overnight (If I let it proof for at least 24 hours, I tend to get even better oven-spring! So, if you can manage, I highly recommend an extended proofing time. I even let mine go as long as 48 hours if I can't bake them the next day and get great results).
6. When you are ready to bake, place a Dutch oven into your oven on the middle rack and preheat to 500 F. Let the Dutch oven heat at 500 F for at least 30 minutes. After your Dutch oven is fully heated, remove one of your loaves from the refrigerator. Flip the loaf onto a piece of parchment paper so the seam side is now down, and quickly score either with a simple 'x', or more intricate design if you'd like. Take out your Dutch oven, remove the lid, and use the parchment paper to carefully lower your loaf in. Quickly spritz your loaf with a bit of water (this will help to create steam and form a nice, crispy crust, and lock in moisture inside the loaf for a perfectly pillowy inside), replace the lid, and place the Dutch oven back into your oven. Lower the temp to 450 F and bake for 30 minutes.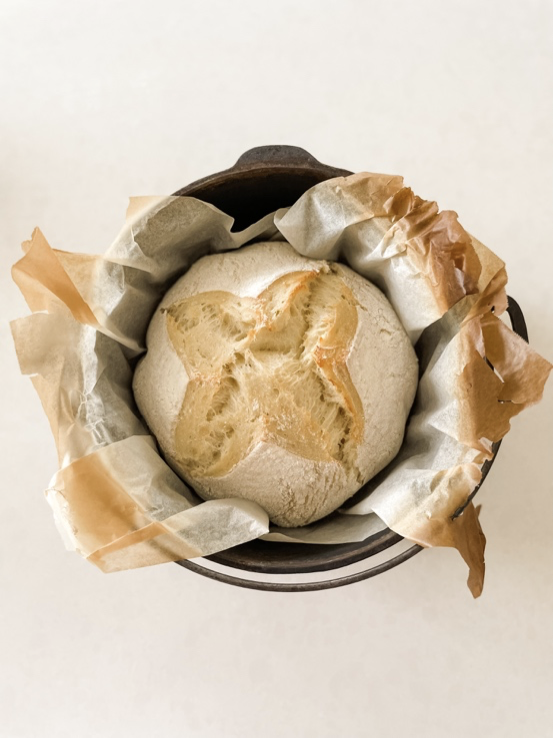 7. When the initial bake is complete, pull the Dutch oven back out, remove the lid, and carefully use the edges of the parchment paper to lift the loaf out, then place the loaf directly on the oven rack. Lower the temperature to 400 F, and bake for an additional 8-12 minutes to finish crisping and browning the crust. Every 1.5-2 minutes, rotate the loaf a bit so it evenly browns on all sides. Your bread is done when it is nicely browned, and it feels hollow when you knock on the bottom of the loaf. Transfer to a wire rack to cool.
8. Raise the temperature of your oven back to 500 F, and repeat steps 6 -7 for your second loaf. Allow loaves to cool completely before cutting into them. Enjoy!!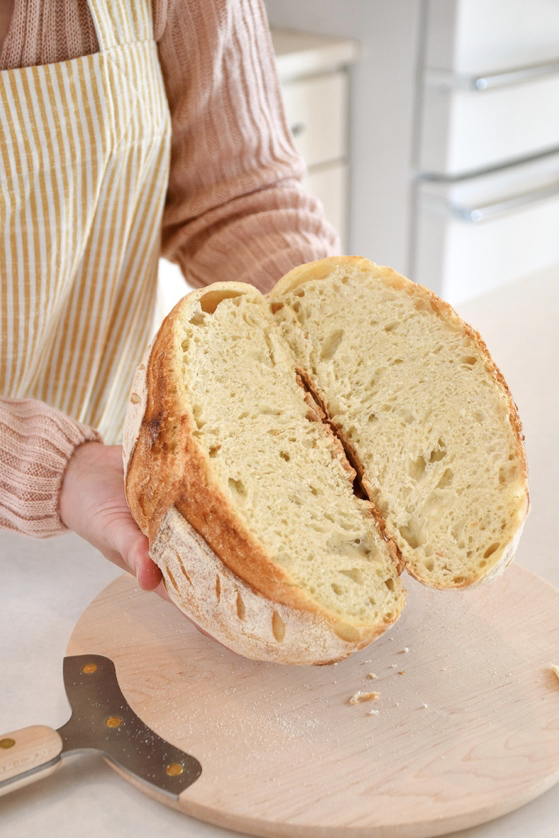 *Notes: 
This recipe can of course be halved if you only desire to make one loaf! It will turn out just as good!
To cut down on time, I use two Dutch ovens to bake the loaves at the same time. I just preheat them side-by-side on the middle rack together, and from that step forward do everything the same. Just two at a time!
Please join us by sharing, continuing the conversation below, and connecting with Amanda at the following: