Katie is a homesteading, homeschooling mama to nine daughters. She and her husband, Oresti, began their homesteading journey 7 years ago on 11 acres in the beautiful Texas Hill Country. They are currently starting from scratch again on 80 acres in the Missouri Ozarks. Katie has been documenting their journey through mostly black and white photographs from the beginning
My husband, Oresti, and I met in Greece. He's from Albania but had moved to Greece in the late 90s after his communist country opened up. I traveled to Greece from the US to work as an aupair. We met at church. That's the very short story of that! Anyway, when we got married in Greece, we talked about one day living on a little farm with chickens and sheep and a milk cow….along with raising a bunch of kids. I gave birth to our first daughter, Luli, in Greece (kind of an awful hospital experience….which made me even more passionate about homebirths, but that's another story).
Around that time we had some health issues pop up. Oresti was diagnosed with ulcerative colitis and through my research into that disease (plus researching my own health issues) I learned so much about the gut, how certain foods and herbs were healing and it drove us to seriously plan to have a farm one day so we could raise our own food. We also really liked the idea of self sufficiency. 
It didn't happen right away. We immigrated to the US (well Oresti did) in 2008 with not much in our pockets.  We ended up living in an average neighborhood for 5 years (and during that time adding four more daughters)! We never lost sight of our dream during those years though. We had a teeny tiny backyard but we packed it with chickens and a small garden. 
Our dream finally became reality in 2013 we were able to buy 11 raw acres in the beautiful Texas hill country. With Oresti's background in construction, we decided to build our home on our own, with just a little help from a plumber friend. We built a one room cabin first so we could quickly move onto the land and sell our neighborhood home. 

Those were precious months, living in that cabin with our daughters who at the time were 6, 4, 4, 3 and almost 2. And we added our 6th daughter just a couple months after we moved in. We lived in that cabin for a year and a half while my husband built our bigger home (and also did any job away from home). We had loans to build the house, but those were lean years. Living on love and bean soup! 
We quickly started adding to the homestead and making mistakes along the way. Number one mistake was getting animals before doing the fencing! Same with the garden, we quickly learned that in our area, the deer population was great and also the raccoons were vicious towards our chickens. A rickety coop was not going to cut it.


We started with goats for milk with the dream of getting a cow one day. From goats, we added sheep. I mostly wanted them for wool because a lot of my crafting required wool and I didn't want to keep buying. Plus I had dreams of spinning one day. After adding sheep we finally got our Daisy, a beautiful 15 month old Jersey heifer.  We had seven daughters by this time, all 8 years old and younger! And we wanted them to be raised on raw milk. 


Daisy had her first calf when I was expecting our eighth daughter. Oresti took over milking since I was due in a couple months. It felt like such a victory in our journey, having our own source of grass fed raw milk. 


Motherhood felt very simple in those years (actually it still does). We homeschool in a Charlotte Mason style, so we do a lot of reading together as a group with most of their education coming from real life experiences. I just don't fret too much that we don't look like traditional school, that's kind of the point to me. 


I've taught my girls to cook, bake, sew and knit at an early age and it often happens that before I can get to a younger girl, an older sister has already taught her these things! I think that's the beauty of a big family. 
Life on those 11 acres with Oresti and our 8 daughters was wonderful and humming along beautifully. I never expected where God would lead us. Around 2019 Oresti asked me what I thought about possibly selling and moving to a bigger property and even finding a way to be debt free. My heart and mind immediately said no! I was so attached to that homestead plus all the memories there. We set that topic aside, but the Lord really worked on my heart during the rest of that year. And I went back to our first year of marriage when we talked about being able to raise our kids together, with Oresti home too. To be self sufficient and debt free. I knew we had to go for it. 


Well, another pregnancy slowed us down a bit. We almost put the homestead on the market before our 9th daughter, Honey Fern, arrived but I'm so glad we waited because we found out, in real estate, it's hard to plan everything out perfectly. 


We made the move to the Missouri Ozarks end of August this year. We were able to get 80 acres of beautiful raw land. Since we had experienced living small and building ourselves before, it was an easy decision to do it again. This time our girls can have a more hands on experience too! Our daughters are now (just turned) 14 years old down to 7 months. Things are slightly off balance since we've been living in an unfinished one room cabin with no electricity or running water. Our meals are not perfect, schooling is not exactly happening as it usually would, but it's all okay. Motherhood, no matter what situation you're in, needs lots of grace and knowing that every season is temporary. Enjoy each season as it comes and look for the good. 

Lord willing we'll start building the farm as soon as the cabin (which we lovingly call the Shanty) is finished. We don't have everything planned out, but I think that's the fun in this journey, not knowing.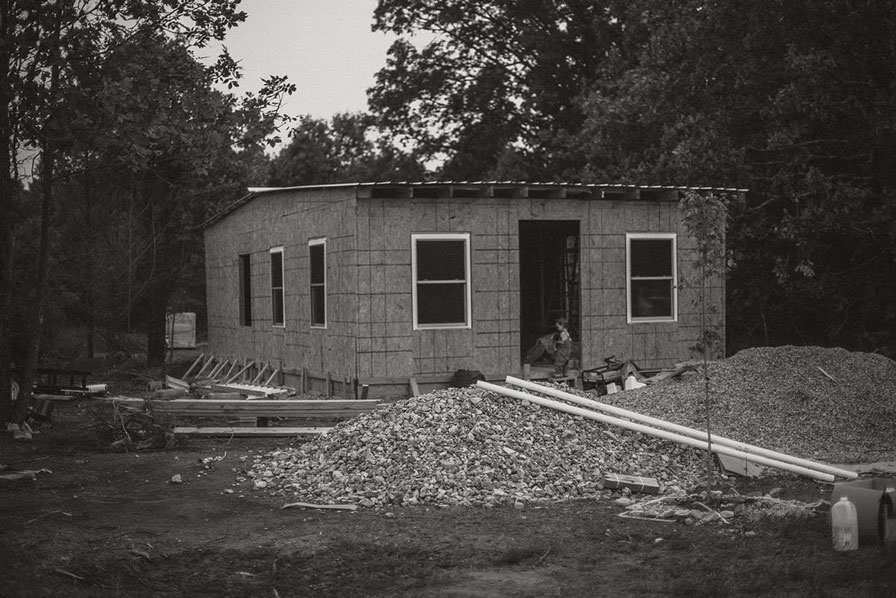 Please join us by sharing, continuing the conversation below, and connecting with Katie at the following: